Third Floor Gallery
13. Death Songs – This series evolved over many years. The basic structure of Are You Sleeping, for example, was created in the early 80s, pre-AIDS, but soon took on a traumatic resonance as the pandemic grew in virulence. These works were exhibited together with the Fin Again(s) Wake series at Intersection for the Arts in 1989.
14. Garden for Harvey Milk Plaza – was a proposal for an AIDS Memorial that I worked on from 1985 to 1987. It was approved by the City of San Francisco but never built because I was unable to find funding for the project. The city was in crisis mode in the late 80s and the idea of money going to an art project was impossible to promote to a community desperately needing funds for basic health care and services for the rapidly growing number of people infected by the virus.
Items in the San Francisco Chronicle (NewsChron) and other news outlets covered the story. The plans and model for the memorial were exhibited at the Santa Cruz Museum of Art and the work was included in an important exhibition of AIDS art, Media to Metaphor (1987 – 1992).
The quotation for the back wall of the memorial reads: "Comrades mine and I in the midst, and their memory ever to keep…" from Walt Whitman's, When Lilacs Last in the Dooryard Bloom'd.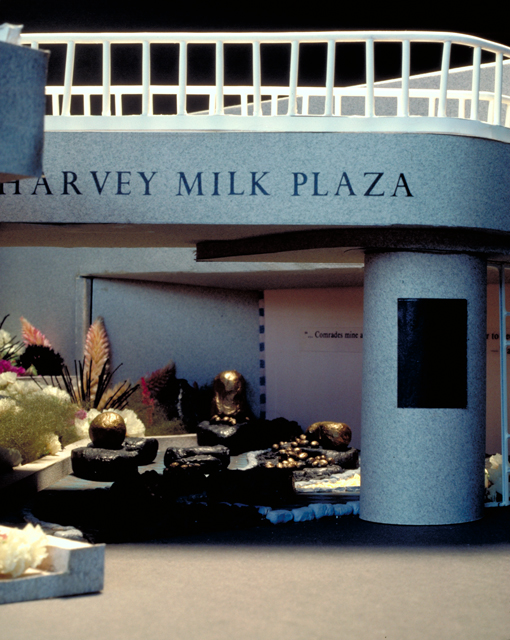 Model of Garden for Harvey Milk Plaza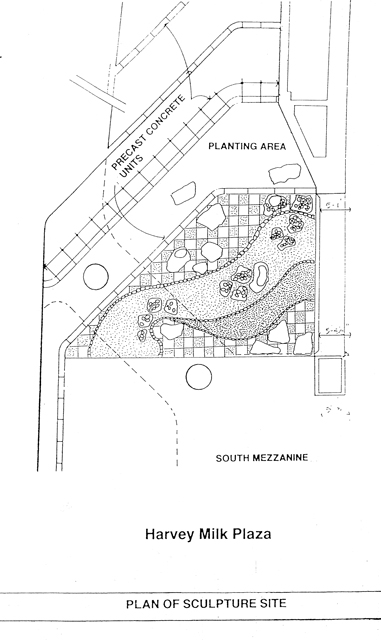 Garden for Harvey Milk Plaza
Drawings, plans and models of the project
| | |
| --- | --- |
| | Garden for Harvey Milk Plaza model |
| Garden for Harvey Milk Plaza model | |
| | |
| Harvey Milk Plaza 1987 | Full scale model created in studio model |

Garden for Harvey Milk Plaza
Exhibition at New Langton Arts, SF and Santa Cruz Museum of Art.

 Garden for Harvey Milk Plaza
Full Scale Model and Drawings
New Langton Arts
 Garden for Harvey Milk Plaza
Models and Drawings
Santa Cruz Museum of Art
 Drawings/Studies for Garden
Studio photo
 Drawing/Studies for Garden
Studio photo
Garden for Harvey Milk Plaza
Artist's Statement that accompanied the exhibitions at New Langton Arts and Santa Cruz Museum of Art.

15. Fin Again(s) Wake – Intersection for the Arts, 1989
The words are borrowed from James Joyce's, Finnegans Wake. They were positioned to construct a series of poetic texts using names of AIDS drugs as a central axis. The idea for Fin Again(s)Wake came from a work by John Cage called The First Meeting of the Eric Satie Society. In that piece random configurations of Joyce's text were generated using a computer program modeled after the Chinese fortune telling book, the I Ching. Fin Again(s)Wake was later redesigned as an artist's-book and distributed it for A Day Without Art. The life's work of John Cage and the enormous legacy he left with us is an inspiration. It is also a painful reminder of the lives of artists cut short by AIDS and their creative legacies that we will never share.
| | |
| --- | --- |
| | |
|  AZT |  FOSCARNET |
| | |
| DEXTRAN SULFATE |  ISCADORE |
| | |
|  MORPHINE |  PENTAMIDINE |

16. My Dead
The digital images are of snow scenes and are taken from an interactive text called, My Dead. This piece is one of four interactive pieces on a CD-ROM titled, Mourning Becomes Ecstatic. The interactive piece opens with he last page of James Joyce's, The Dead. The pronouns that indicate gender are erased with white-out, a type of paint used to correct typewritten pages. When clicked on, the erased words are hyperlinked to a personal narrative about loss and grief.

17. Cinders – 1996

In 1996 I collected old Bay Area Reporter (BAR) newspaper obituary pages for many months to use in a painting I would call Cinders. The Bay Area Reporter (BAR) is the local gay newspaper in San Francisco. The paper was most gay people's eye on the epidemic and where we all got news of new treatments as well as of political and community events. At the back of the paper was a section of obituaries that occasionally stretched over several pages. Face after face of mostly young gay men who had died of acquired immune deficiency syndrome (AIDS) appeared there week after week. It was a ritual for most of us living in San Francisco to look there for loved ones and friends. I cut the obituaries that I had collected from the newspaper and set them on fire one day. While burning, I attached them to a canvas with beeswax and oil paint. The painting lives in a closed wooden box in the loft of my studio. Often I think about Cinders that remain…
 Cinders – 1996.
Mixed Media: Obituaries from gay newspaper, oil, and beeswax on canvas.
24 x 36"
THIRD FLOOR GALLERY – INSTALLATION PHOTOS
 Death Songs and Garden for Harvey Milk Plaza

Garden for Harvey Milk Plaza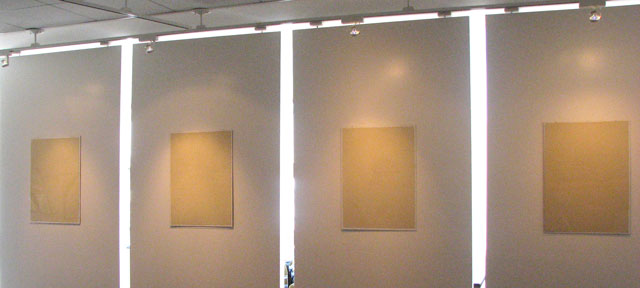 Fin Again(s) Wake

 My Dead and Cinders